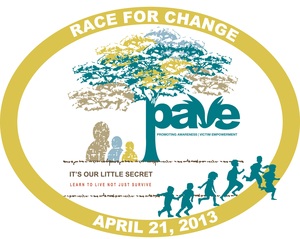 2 Nonprofits Coming Together to Bring Awareness to Child Abuse!



IOLS & PAVE



Sunday, April 21, 2013

Busse Woods - Schaumburg Illinois
DAY OF EVENT INFORMATION:
Pre Race Day Packet Pick up available
Details will be avail online www.itsourlittlesecret.org
7-8 am Race Day Packet Pick Up
(Same day registration is available)
8:30 am 10K Start
8:45 am 5K Run/1-Mile Walk Start
Awards Ceremony & Balloon Release will follow

COURSE INFO:
Busse Woods Trail (Paved course), Grove 5, Elk Grove Village, IL.
Water stations and bathrooms are available throughout the course.
Course map & addition information available at www.itsourlittlesecret.org

*RACE IS CERTIFIED*
50-YARD DASH & BALLOON RELEASE:
Children 12 and under only. All participating children will receive a prize.
To commemorate the lives affected from abuse, we will conduct a balloon release
before Award Ceremony. Children participating in 50 yard dash will receive one balloon.

REGISTRATION FEES:
*All Registrants will receive a Dri-Fit Shirt and runner's bag with Freebies!!

$35 10K Pre-Race Day $40 10K Race Day
$30 5K Pre-Race Day $35 5K Race Day
$35 1-Mile Walk for Family of 4
$25 1-Mile Walk Individual
$20 Students

AWARD INFORMATION:
Top 10/5K Run finishers in designated age groups will receive a medal.
Age groups: 11 and under, 12-19, 20-29, 30-39, 40-49, 50-59, 60-69, 70 and older.
Overall 10K & 5K winners will receive awards and/or prizes for
1st place male and female, 2nd and 3rd place male and female winners will receive awards.
A prize to the overall runner for both 10K/5K Run male or female who ran for a
Child(ren) will be awarded a one night stay at a TBD hotel/water park. Great for family time!

Race results will be available at www.itsourlittlesecret.org
For race registration and event questions please contact:
Maebelle Obispo-Emery, 5K Coordinator
Email: mobispo@itsourlittlesecret.org
Tel: 847.651.9878

2 Nonprofits Coming Together to Bring Awareness to Child Abuse!



ABOUT IOLS:


The mission of It's Our Little Secret (501c3) is to promote a healthy recovery for the
abused children & youth, and to stop the destructive future behavioral patterns of the
abused towards their own and other children.
www.itsourlittlesecret.org



ABOUT PAVE:


Promoting Awareness, Victim Empowerment (PAVE) is a multi-chapter national
501c3 nonprofit organization that uses education and action to shatter the silence of
sexual violence through targeted social, educational and legislative tactics.
www.pavingtheway.net